Overview
When directing a theatre production, there is never enough preparation and rehearsal time available once the troop has bumped into the venue stage.​
Once I had started using SpaceDraft I was hooked. I know through its practical application, that I put on a better show. It's a really visual collaborative technology, that helped the entire cast and crew see how my brain was playing out over time.​
When making a theatre production, a Director needs to effectively communicate their vision to the actors so that the story can be brought to life. Sometimes it can be difficult to effectively communicate a directors vision, and the actors may well see things in a different way to how the director intended it.
SpaceDraft is the perfect tool for getting everyone on the same page with a unified vision that is clear and easy to understand.
Use pins to simulate the movement of characters, set and props.
Easily share and communicate with others around the world.
Collaborate across departments to ensure the vision becomes a reality.
Existing Challenges and Solutions
The process of planning a theatre show is a long and challenging process. Below are some of those specific challenges, and how SpaceDraft helps to fix them.
Visualizing your ideas
It can be difficult for people see and think exactly what you are seeing and thinking. SpaceDraft allows you to bring your ideas to life in a way that everyone can clearly see, hear and understand. Additionally it's a great way to document your notes and staging so that shows can be put on again in the future.
Catching people up on missed rehearsals
In this day and age people can't always be in the same room or location as the rest of the team, and it can put people at a massive disadvantage. It's even more difficult when you need to explain to someone complex choreography, blocking and movement. All of this takes time and detail to explain, and can't simple be written down in a catch up email. With SpaceDraft you can easily map out movement, blocking and staging and get everyone on the same page.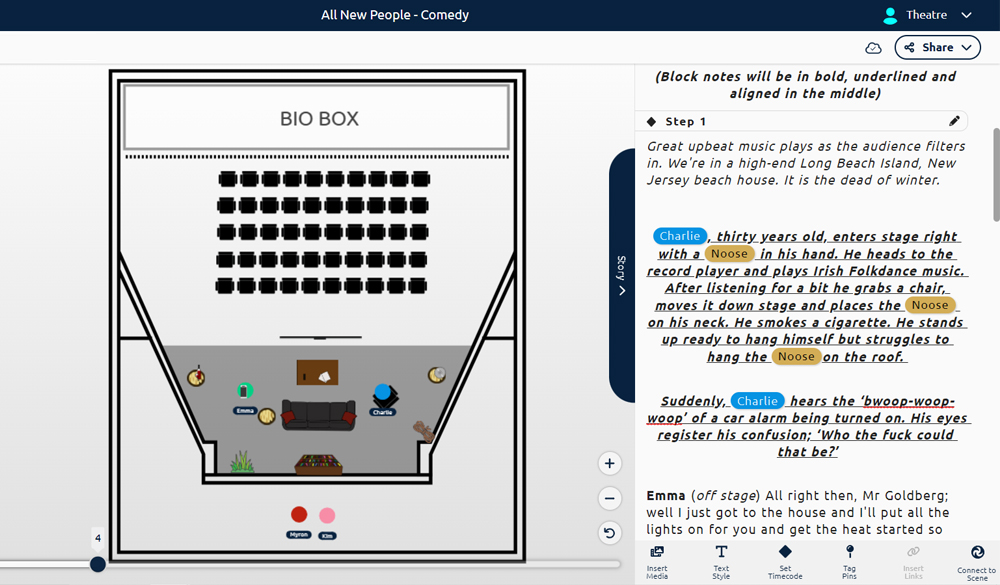 Results
SpaceDraft has helped make it easy to start blocking and directing before you even enter the space. You can begin with a better understanding of the dimensions of the performance space and be in a brilliant starting position before you even begin.
In the production of this play, SpaceDraft helped keep the cast on track. Just by updating the SpaceDraft after each rehearsal, everyone was on the same page and by simply scanning a QR code everyone could easily receive the SpaceDraft and use it to recap any notes and blocking changes. for all the cast to see.
SpaceDraft leaves time for creatives to do what they enjoy most – play freely and explore!
Future Plan
"I plan on producing and directing again in the future, I even hope to have another new piece up for this up-coming Fringe Festival of 2022 before I set out for my contract at Universal Studios Resort Beijing. And I feel far more equipment to do so with SpaceDraft securely in my pocket."
I personally think SpaceDraft could be the tool of the future, for all stage productions.

Nicholas Rogers, Director and Actor